Here at Mead Metals, we are only as strong as the individuals who make up our company. And those individuals are the people who show up each day and do what it takes to meet the needs of our customers. We have many individuals within different teams and departments that make what we do possible.
Today, I want to introduce you to a few members of our sales team. These sales representatives are on the front lines of our company, working directly with customers to answer their questions and meet their needs. Whether you've worked with us before or not, you're sure to learn something new.
Mike Baufield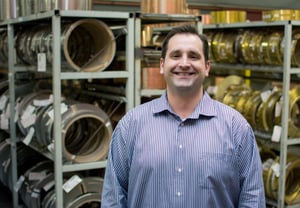 Mike joined Mead Metals in September 2011. He holds a bachelor's degree in Communication from Washington State University, which he uses each and every day. In a typical workday, Mike communicates with customers, co-workers, suppliers, and shipping companies.
There's a lot of detailed information that needs to move internally and externally in order to meet the needs of customers. Having the ability to communicate effectively in person, on the phone, and via email allows Mike to meet customer needs by finding materials that can meet their requirements.
"I didn't expect our customer base to be as diverse as it is. We serve a wide array of applications and customers – one can just as easily be a hobby shop, an independent artist, or an incredibly detailed and complex electrical company." - Mike
When he's not working, Mike enjoys spending time with his family planning their next travel adventure. With a four-year-old son and a two-year-old daughter, it's a busy and exciting time.
Tony Kuehn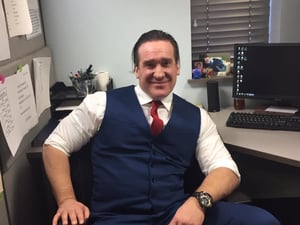 Tony joined Mead Metals in July 2013. He holds an associate's degree from the Art Institute of Minnesota. On a typical work day, Tony prepares numerous quotes for current and prospective customers.
He provides quotes of every shape and size, sometimes satisfying a small prototype inquiry and other times a multiple release program. In addition to quoting, Tony enters customer orders, follows market trends, tracks numerous supply chains, and takes care of any customer needs or requests that come his way.
"My goal is to ensure each of my customers knows they are my priority. The key to this is responding quickly and keeping the lines of communication open." - Tony
When he's not at work, Tony likes staying active, which includes lots of time at the gym and spending time with his dog, Blue. He enjoys traditional and virtual art as well as animation, special effects, and movies.
Alan VanSloun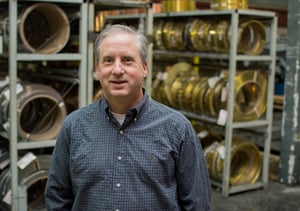 Alan joined the Mead Metals team in September 2014 and holds a degree from the Minnesota School of Business. He's been working in the metals industry since 1988. Similar to the other reps, a typical workday includes quoting, entering orders, and solving problems. Whenever customers are unsure of what alloy or temper they need, Alan works with them on the application of the material and temper based on the physical properties of the available material.
"I work alongside our production staff to meet customer needs, too. They help me determine the best way to meet any urgent requirements, and they put in the time to take multiple mic readings of our existing inventory to find the best coil to meet a customer's need." - Alan
Alan is the proud father of two boys (Ben, 15 and Sam, 13). They enjoy traveling together, taking camping trips, skiing in the Rocky Mountains, and deer hunting. And with both boys heavily involved in sports, there's always something coming up on their social calendar.


Thank you to our readers for taking the time to get to know some of our sales representatives, and thank you to our featured sales reps for your contribution to this blog.