We work with lots of customers who require tight tolerances on their metal products. Tight metal tolerances can be critical for any number of reasons, and I'll discuss a few of those reasons below. After that, I'll cover how Mead Metals helps customers meet their tight tolerance needs. But first, the basics.
What is Metal Tolerance?
In the simplest form, tolerance refers to the thickness of a material. In applications where tight metal tolerance is required, we're able to adjust certain metal products plus control how wide a material is before we ship it.
When Is Tight Metal Tolerance Necessary?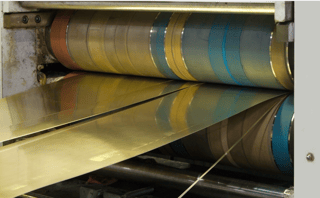 Whether or not tight metal tolerance is necessary really depends on the customer, the specifics of their project, and the product being manufactured. But, here are two common reasons.
1. Meeting Tooling Requirements
Some of our customers require a tight tolerance for manufacturing purposes. Whether the application is injection molding or post-plating, a tighter tolerance allows for more leeway.
2. Needing Consistent Product
Consistent metal product saves our customers a very valuable asset: time. Instead of spending time on setup or die maintenance before processing, consistent product means you can keep materials moving.
How Mead Metals Meets Metal Tolerance Needs
In the industry niche we serve, our ability to meet the tight metal tolerance needs of our customers is second-to-none. With the specialized machinery we have in-house, we can:
Correct or adjust metal thicknesses
Remove burrs and cambers
Precision slit metal
Cut to length
But it's not just the machinery that enables us to deliver on tight tolerance needs. It's also because of our people. The experience and knowledge of our staff - they know the metals, they know the machines, and they understand how to make adjustments to get the results our customers need. It's a level of expertise that comes from years of working within an industry, and it's a level of expertise our customers know they'll get every time they work with us.