Since our start in 1961, Mead Metals has had the opportunity to work with a variety of skilled blacksmiths, business owners, and artisans. Today we would like to feature Mike Route — a Wisconsin–based artist, award-winning blacksmith, and the owner/operator of Red Iron Studio. Among his professional ironwork, Mike has found a unique application for copper sheet metal: custom range hoods. Let's learn a bit more about Mike, his work, and how Mead Metals helped him get where he is today.
RED IRON STUDIO
It has been over a decade since Mike Route established Red Iron Studio. Throughout those ten years, he has mastered metal design work within the following categories:
Railings
Wall Brackets
Sculpture Work
Furniture
Fireplaces
All of Mike's work is custom, meaning he approaches every inquiry with an open and artistic mind.
CREATING CUSTOM METAL WORK
Like many of his projects, Mike's copper range hoods were born from an individual request. He had never built one, but when a customer came in with the idea, he saw it as an opportunity to learn. The result is nothing short of stunning.
Mike sourced copper metal sheets from Mead Metals to create his first range hood and has made over a dozen more since then. These custom range hoods often become focal points and conversational pieces within the customers' homes. The idea of creating a part of the story of someone's home is the connection that continues to fuel Mike's work.
SOURCING FROM MEAD METALS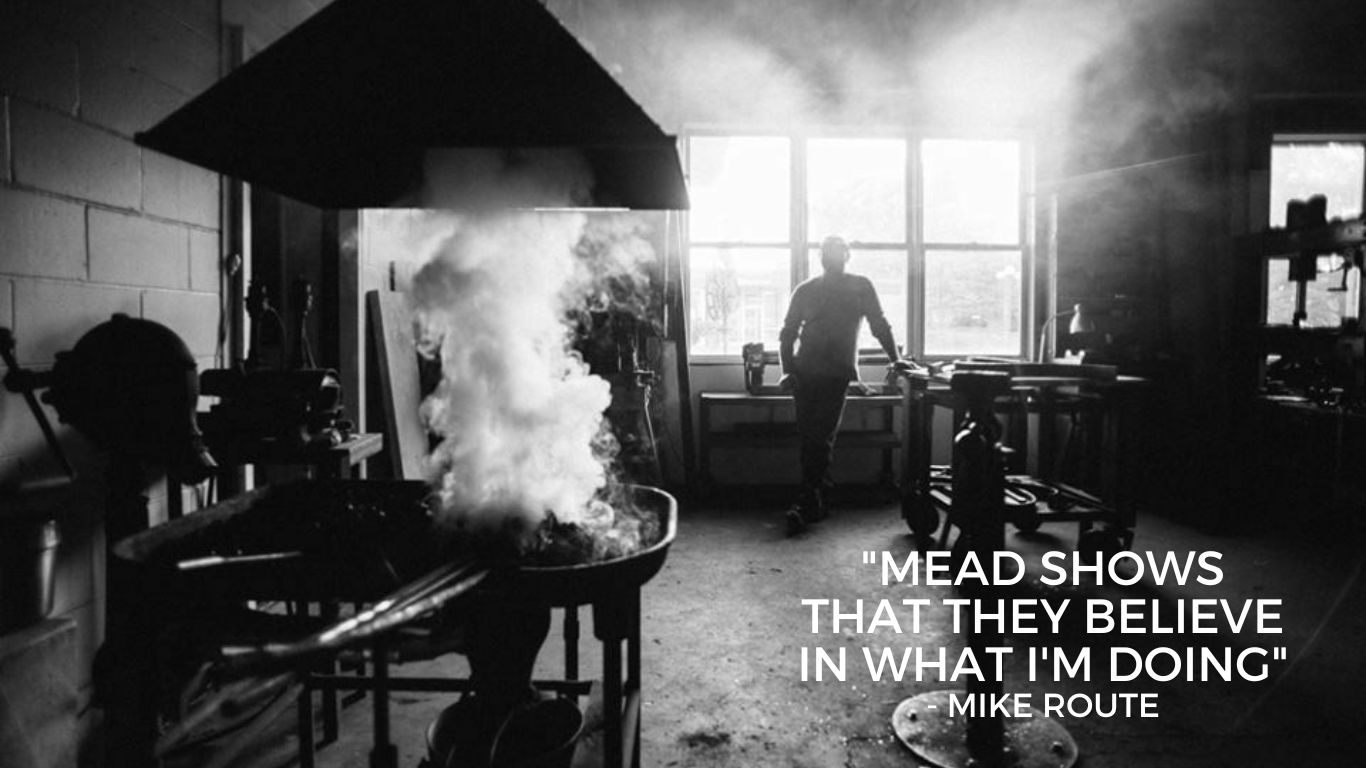 When speaking with Mike, it was fascinating to learn about this unique application for materials sourced from Mead Metals. While reflecting on his experience working with our team, Mike said:
"My dad has used Mead to source materials for his artwork, so I had a pretty good idea that they would work with me too. While I don't think I'm their biggest customer by any means, hopefully, I'll be using them more as my company continues to grow.
During all the times I've contacted Mead – Tony is who I work with – they've been super helpful. I told them about my range hood concept, and they ordered the copper sheets that specifically meet my needs. Even more than just supplying my material, Mead shows that they believe in what I'm doing. That sets a little fire under me to keep going."
LOOKING TOWARD THE FUTURE
When Mike founded Red Iron Studio 10 years ago, he was operating as a one-person show. Today he has four full-time employees and a comprehensive portfolio showcasing all types of custom architectural ironwork.
Looking to the future, Mike hopes to find a balance between leading his team and continuing to focus on design, all while getting his hands dirty.
"We're looking into ways we can serve more people without becoming some vast, empty business. A big part of that is connecting to the customer and their story."
You can learn more about Mike and Red Iron Studio by visiting his website. You can also see his most recent work on Red Iron Studio's Facebook page.