At the end of the day, you want to source materials that suit your project's purpose. Sometimes the focus is on performance and endurance. In other applications, the appearance of the final product may be more important than the functionality.
Whatever your needs are, know that Mead Metals can assist you with listening to the specifications of your project and helping you get the right material for your application.
Tempered Spring Steel 1075 Vs 1095
Below, I've outlined the basic differences between two types of Tempered Spring Steel: 1075 and 1095. This side-by-side comparison will help you understand how these closely-related materials differ from each other.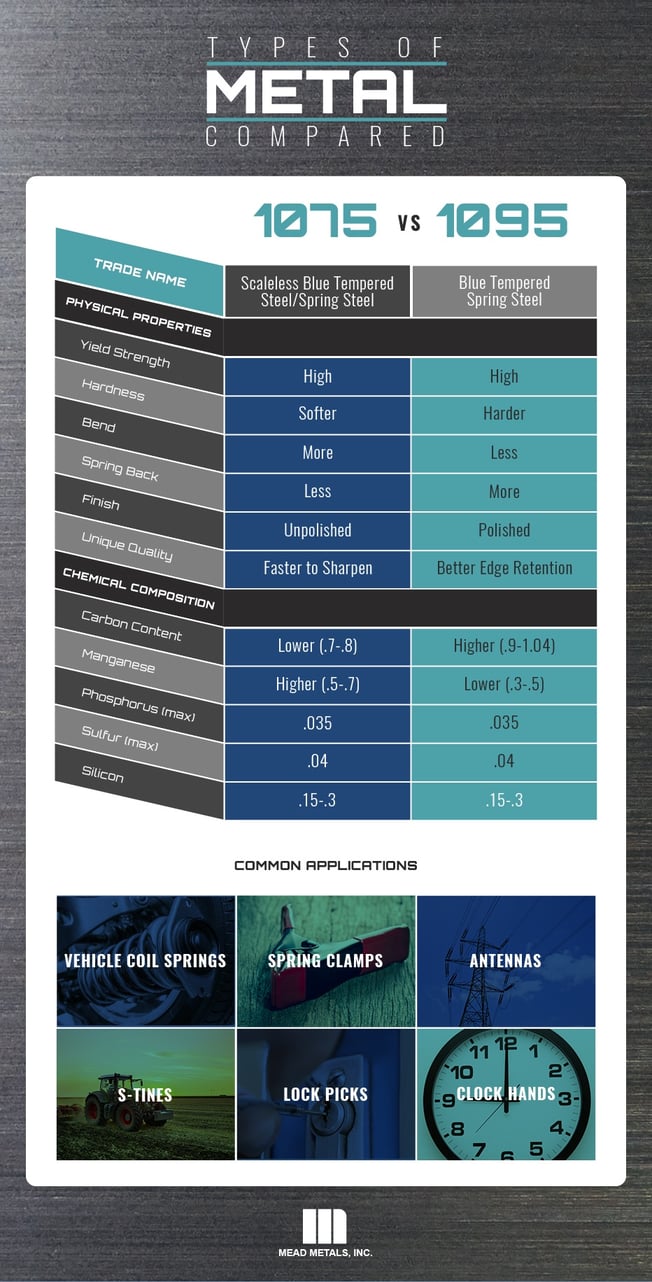 Physical and Chemical Properties
While the materials also differ in manganese content, carbon content is the major differentiator here. Known as a high carbon steel, blue tempered spring steel is harder, less bendable, and has a higher degree of spring back. Finished products made from this material have better edge retention, which correlates to the material's other properties.
Alternatively, Scaleless Blue Tempered Steel has a medium carbon content, which results in a softer, more easily bent material with less spring back (as compared to 1095). Because it has a greater machinability, it is easier to sharpen and otherwise manufacture.
Common Applications
Both metals are used to create many of the same products. The decision of which type to use in manufacturing depends upon your manufacturing process and the unique properties you would like the final product to have. Both 1075 and 1095 spring steel are used to make:
Vehicle Coil Springs
Spring Clamps
Antennas
S-Tines

Lock Picks
Clock Hands
If you're unsure whether Scaleless Blue Tempered Steel (1075) or Blue Tempered Spring Steel (1095) is right for your project, we can help you determine which metal's properties are better suited to your application. And from there, help you get the material you need in the appropriate gauge.