The most important part of a metal-based project is knowing the exact materials you're working with. Whether you're determining which metal to use or trying to order more of an unknown metal you already have, accuracy is essential.
Metal is a unique resource. If you choose the wrong apples to make a pie, the flavor might be slightly off. But if you choose the wrong metal in a load-bearing structure? The results can be disastrous.
Different metals come in a selection of grades, and pure metals are typically combined with supplementary elements to create a variety of alloys. But grade refers not only to the composition of your metal (i.e., its chemical makeup) but also to how your metal was manufactured and its mechanical properties. Of course, if you're ordering a metal, this information is on the packaging. But what if you're working with metals you aren't familiar with?
Let's take a look at common metal identification and testing methods to make sure your project gets done the right way.
Common Metal Testing Methods
There are seven common testing methods for determining the alloy composition of a certain metal. These tests are a great way to gain insight into your metal when you don't have access to higher-end tools.
Even if you have access to XRFs (X-ray Fluorescence Analyzers) or LIBS (Laser-Induced Breakdown Spectroscopy), we recommend starting with these basic tests to narrow down your options and make more informed testing decisions.
Surface Appearance Test

: The surface appearance test looks at any colors and marks on the surface of the metal. This test is not the most specific, but it can narrow down your metal options so that you know which follow-up tests will be the most beneficial.
One of the easiest determinations you make with a surface appearance test is in the oxidation levels. If you have to scrape away rust to see the original color of the metal, you'll be able to compare the color of the oxidation with the color of the original metal and gain insight into the level of iron.
Spark Test:

The spark test creates sparks from the metal by grinding it against a wheel. The length, color, and form of the sparks can indicate the family of metal. We'll go deeper into the spark test for steel alloys below.



Chip Test:

The chip test looks at the fragility and structure of a metal by using a chisel to break off a small piece. The size of the chip, the texture of the edges, and the smoothness of the chip itself can give great insight into the type of metal you're dealing with.


Magnet Test:

Perhaps the simplest of the tests, the magnet test determines whether or not a metal is magnetic by holding it to a magnet. It's worth noting, however, that some stainless steels are not magnetic, so it's not always a foolproof test on its own.



Torch Test:

The torch test looks at the consistency of a metal once it's melted, in addition to how fast that melting occurred. Depending on what you're constructing, this is a crucial test, as it determines whether your metal is safe to use for your project.



Chemical Test:

The chemical test is not applicable to all metals, but it is very useful in identifying steels, magnesium, and aluminum. Small amounts of phosphoric acid will show bubbling on low-chromium stainless steels, and silver nitrate will leave a black residue on magnesium (but not on aluminum).



Hardness Test:

The hardness test (commonly referred to as the Rockwell Hardness Test) looks at the strength of a metal against a material trying to imprint against it. Each metal has a specific hardness number assigned to it, which corresponds to the level of impression. This makes the hardness test one of the most accurate metal identifiers.
Metal Identification Testing Order
Let's work on identifying metals in real-time. The first step to identifying your metal is determining whether it is magnetic or nonmagnetic. If it's nonmagnetic, click through the identification tree below. If it's magnetic, jump to identification tree two.
Identification tree for NONMAGNETIC metals: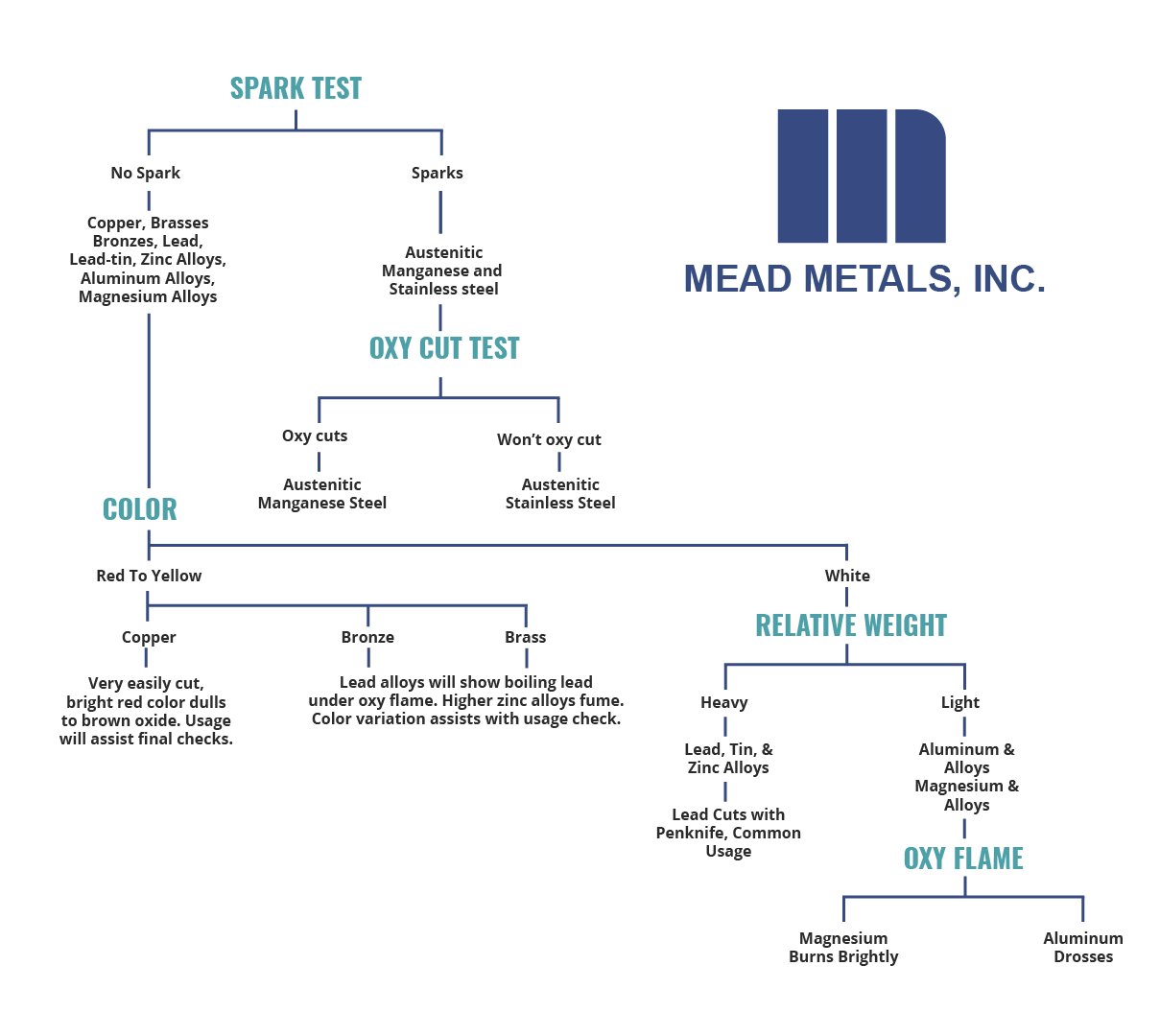 Identification tree for MAGNETIC metals: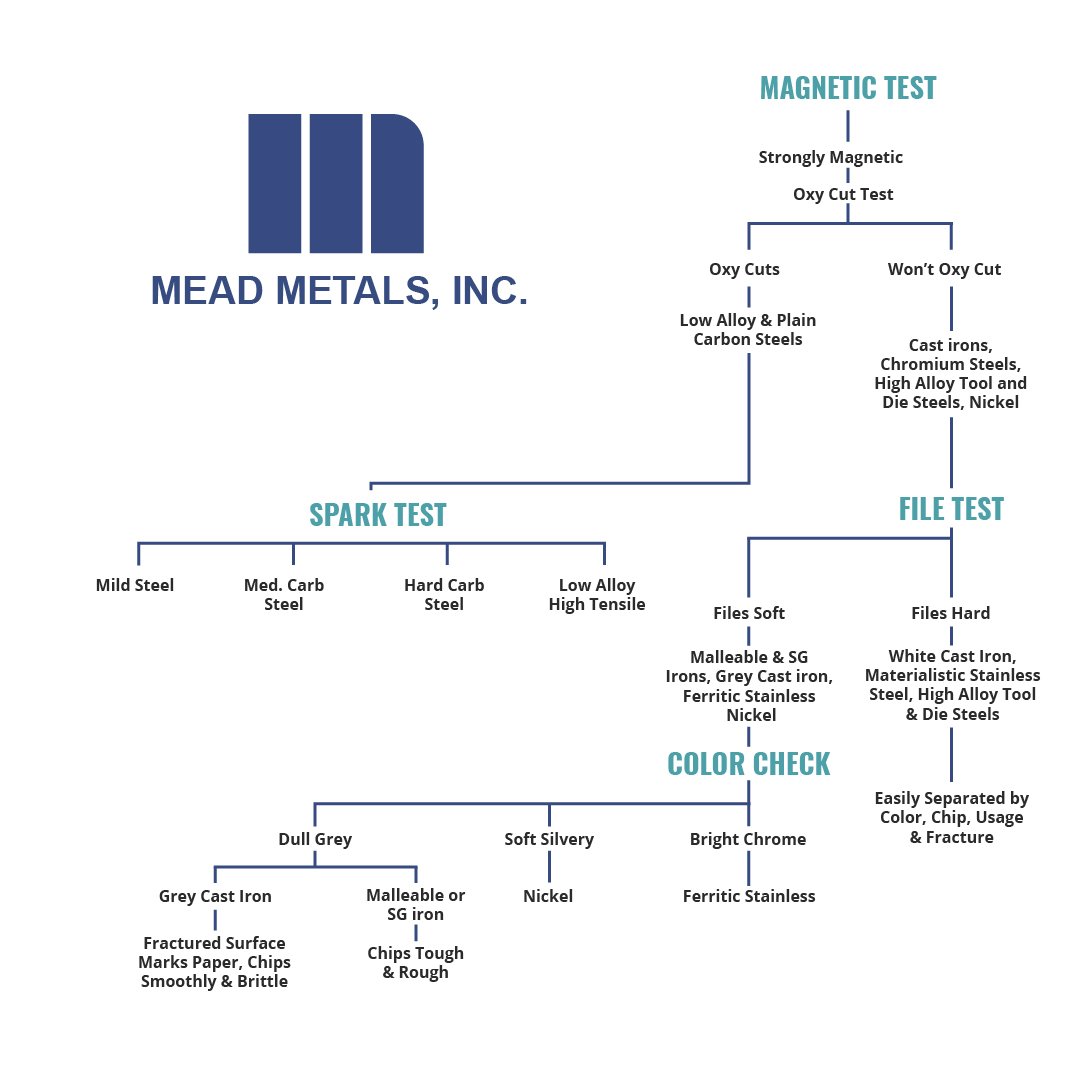 How do you determine steel grade?
Identifying a metal as "steel" is not particularly difficult. However, steel is one of the most widely used metals, with over 3,500 different grades — and not all grades are created equal. Differentiating steel grades is complex and can be frustrating without high-end testing equipment. That said, there are ways you can narrow it down with three basic tests.
Note: All of these tests are more accurate when performed in comparison with a steel you have already identified. If you have a piece of stainless steel or other alloy you frequently use, keep it close by during the tests for easy weight and visual checks.
Visual Tests
There are several ways to visually identify steel. One is to simply check the metal for an identification code. If the steel is pre-packaged, it should have a steel type code somewhere on the metal itself. This would be either a 4-digit code (check the AES system) or a letter under the size number (check the ASTM system).
If you don't have access to the identification code, you can move on to color. If you're seeing any signs of oxidation or rust, it's unlikely your steel is stainless. If the rust is dark brown, it's likely you are dealing with a carbon-alloy steel.
Spark Test
A spark test can be used to determine if you are working with steel in the first place, but it can also be used to determine the alloys in that steel, and it is especially useful in determining the amount of carbon. Low-carbon steel produces almost no sparks when on a grinder, whereas high-carbon steel will send sparks flying.
Look at the graphic below for a few examples of different grades during the spark test.
Filing Test
Steel is an incredibly strong and hard metal, so one of the ways to test which alloys may be combined with it is to try to file it down. Based on the rate of filing, you can use the Mohs Hardness Scale of Metals to determine which metals might be part of your steel. Lead, aluminum, silver, and carbon are softer than steel and carry their own hardness rating, so they will file down at different rates.
Learn more about steel grades
At Mead Metals, we know that quality materials and reliable service are essential to your projects. That's why we supply steel and other metals at the highest grading standards. If you want to know even more about different steel grades, take a look at our deep-dive blog on the four main types of steel.
Our Mead Metals Steel Comparison Guide can give you all the identification information you need at your fingertips.
Whether you need supplies, service, or a surplus of expert information, Mead Metals is here to help. Contact us to get a quick quote today.