If you've spent a bit of time on our website, you may have noticed three letters strung together: MOQ. And in case it wasn't made clear at the time, those three letters stand for minimum order quantity. It's a phrase we reference throughout our website, and it's important for our current and prospective customers to know about. So beyond knowing what these three letters stand for, let's look at what they mean and how our minimum order quantity policy benefits customers.
What Does MOQ Mean?
MOQ, the abbreviation for minimum order quantity, refers to our system for providing customers with high-quality metals in smaller volumes. Every single metal we carry has its own MOQ, which is listed on its individual product page. For example, our minimum order quantity for brass is five to seven pounds.
Using brass as the example, let's look at how our MOQ policy works. If you are looking to purchase four pounds of brass, full hard, at 0.025 gauge, we can provide that quantity at those specifications, and you would be charged at the current minimum lot charge (as if you had ordered somewhere between five and seven pounds).
Benefiting from Minimum Order Quantities
When you work with a metal material vendor who works with minimum order quantities, you stand to benefit by avoiding the exorbitant fees that are known to accompany smaller orders of specialty metals. We don't refuse material orders on the basis of size. Instead, we've developed what we believe to be a fair and effective process for meeting the varied needs of our customers.
Here at Mead Metals, providing low-volume specialty metals to our customers is an industry niche we're proud to serve. And by selling high-quality metals in customized order quantities, we're able to better serve many of our customers. Here are four benefits of placing low-volume orders.
1. SIMPLIFY YOUR METAL PURCHASING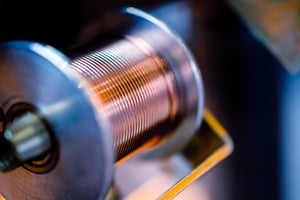 Being able to order at or close to the amount of metal you need is convenient. Oftentimes, larger metal service centers will only accommodate large orders. This can result in needing to purchase double or triple the amount of material you actually need.
Beyond convenience, buying an amount closer to the volume you actually need will lower overall material costs.
2. ELIMINATE OVERSTOCK STORAGE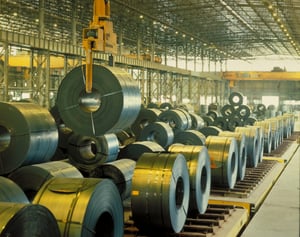 In situations where you purchase a large quantity of metal when you only need a small quantity, what do you do with the surplus?
Some businesses might not have space or capabilities to store extra material, and buying a small quantity eliminates the stress of storing or dealing with overstock. Plus, storing materials improperly leaves them vulnerable to damage that could compromise their quality.
3. HELP WITH CASH FLOW
Sure, ordering smaller quantities may cost you more on a per pound basis, but what about all that money tied up in aging inventory? Inventory turns, JIT production demands, and LIFO/FIFO considerations help justify ordering only what's needed for the job. Carrying costs vary by product, but inventory on your shelf could be costing you money in your pocket.
4. LOWER SHIPPING COSTS
With smaller quantities, customers can significantly lower shipping costs by using UPS instead of a trucking service. Take for instance Cold Rolled 1008/1010 Steel, which you can purchase from Mead Metals in quantities around 30-60 pounds for a minimum lot charge. 30 pounds of CRS can be shipped for a reasonable amount using UPS.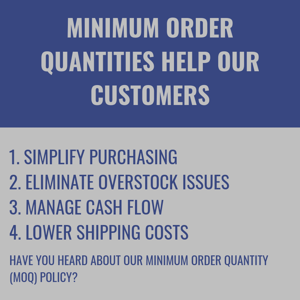 Being able to buy metal in small quantities just makes things easier on your end. There's something so simple about being able to get just what you need for your project without any hassle. So, when you need to order a small quantity of metal product, it's great to be able to do so.
Below, you can read some of the details of the minimum order quantity (MOQ) policy here at Mead Metals.
MINIMUM ORDER QUANTITY POLICY
In order to suit metal product orders of all sizes, we've developed a minimum order quantity (MOQ) policy. Every metal product we provide has its own minimum order quantity (MOQ), which is displayed on each metal's product page. While we can and will support orders for quantities smaller than this, our minimum lot charges are often budget friendly and can be easily obtained by contacting us. Additional variables do apply, and the final cost will depend on material thickness, width, and additional processing.
PROVIDING METAL PRODUCTS IN LOW VOLUMES BENEFITS OUR CUSTOMERS
Because customers can source the exact amount of metal material that they need from our facility, the burden of dealing with, reselling, and/or inventorying surplus metal products does not fall on our customers. We understand that some projects and requirements only use a small volume of certain metal types, and we are happy to provide our customers with exactly what they need.
If you find yourself in need of high-quality, low-volume specialty metals, and you're having a difficult time finding a metal service center who will work with you to accommodate your request, consider working with Mead Metals. This way, you can avoid inflated fees and receive excellent customer service in the process.
As we like to say, whether you need three sheets of metal material or 3,000, you can source your high-quality, specialty metals from us. Interested in working with us to fill a small or large volume order? Request a quick quote: