Over recent years, the metal industry has seen a dramatic boom. With this increase, you may question where the industry is heading. Will demand continue to grow or is the bubble due to burst? Below is a look at the metal industry and where it's expected to go in 2019 and beyond.
Forecasting the Metal Industry in 2019 and Beyond
The metal manufacturing industry is experiencing an increase in demand that has not been seen since before the 2008 recession. This demand has resulted in many feeling optimistic about its outlook.
Even with economic issues like inflation, economists are feeling positive as well. Chris Kuehl, co-founder and managing director of Armada Corporate Intelligence and economic analyst for the Fabricators & Manufacturers Association Intl., estimated that growth in metal fabrication should keep a steady pace at the national level for 2019's U.S. GDP — between 2.7 and 3.4 percent. This increase appears across the manufacturing industry as a whole and implies that metal markets will thrive this year.
U.S. production is estimated to grow 2.8 percent from 2018-2021. With this overall increase in manufacturing throughout the country, there is now a higher demand for skilled workers in the metal forming, fabricating, welding, and finishing sectors. Lincoln Tech says the U.S. will need an estimated 90,000 welders by 2024. With this dramatic increase for workers in these areas, professionals in the industry want to know how to tackle this demand growth. John Catalano, SME senior director at FABTECH —North America's largest metal forming, fabricating, welding and finishing event, says,
"Industry professionals have questions about what the future holds, and we want to provide a place for them to find the answers and innovations they need to face the ever-changing manufacturing landscape,"
Not only is there a shift in manufacturing and production, but there are also changes coming for the metals and mining industry as well.
Metals and Mining Industry Trends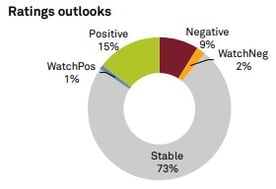 As reported by S&P Global Ratings, the metals and mining industry is expected to have credit measures improve modestly in 2019 for upstream and downstream producers. This is due to the lowered debt and relatively flat price and output expectations in 2019. Furthermore, 73 percent state prices for most metals and other mining commodities will stay generally stable over the next two years. This is based on the assumed balance in global supply and demand.
China remains the primary force for the mining and metal industry and their ties have a large risk associated with them in the industry. A slowed demand from China or an unforeseen increase in steel output capacity could potentially disrupt the current state of the industry. Current trade tensions between the U.S. and China could play a major role in destabilizing the metals and mining industry's prices.
Pricing Expectations
Due to higher energy prices in 2018, there was inflation across the industry. However, S&P Global Ratings forecasts small pockets of inflation instead in 2019, focusing on higher demand for special skills or machinery. Companies are battling this by further improving productivity — including more automation technology.
Although the future is looking bright for the metal industry, it is important to remain cautiously optimistic moving forward. Not knowing when the demand for the industry will peak means that you'll want to keep up-to-date on what's happening in the world of metal. Our team at Mead Metals provides industry insights and more on our blog.