Copper alloy 110 has the second-highest electrical conductivity of all metals. If you're wondering which metal is at the top, it's silver, but you won't find silver wiring in electrical applications. In addition to the fact it's considerably more expensive, silver lacks copper's other desirable qualities such as ductility and malleability. So, for the majority of applications requiring electrical and thermal conductivity, copper is the go-to option.
If you're in need of copper alloy 110, you can
view our stock items here
.
Copper Alloy 110 and Thermal Conductivity
The high thermal conductivity of copper is what makes it stand out from other metals, and when comparing all copper alloys, alloy 110 has the greatest thermal conductivity. It's no wonder this alloy (also known as Electric Tough Pitch (ETP)) continues to be the most popular item on the copper market.
Predictably, alloys with higher thermal conductivity will also have higher electrical conductivity. And alloys with lower thermal conductivity also tend to have lower electrical conductivity. This relationship within alloy families makes it easy to measure an alloy's electrical conductivity to determine its relative thermal conductivity. This is a helpful exercise because thermal conductivity is more challenging to measure.
For electrical transmission and interconnection, you typically want a copper with at least 85% IACS (International Annealed Copper Standard). And as one of the strongest alloys for copper, alloy 110 has 101% IACS. It's easy to see why alloy 110 is the best type of copper alloy for thermal conduction and a perfect fit for electrical and thermal applications.
Additional Copper 110 Properties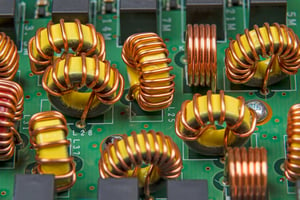 Alloy 110 is used for a wide range of applications because of its thermal conductivity. But it also stands out with its other useful properties like corrosion resistance, high ductility, malleability, and overall attractive appearance.
The high conductivity of alloy 110 makes it the number one choice for transformers, switch gears, and many other electrical applications.
Copper's high conductivity complements a variety of other desirable features, including its being one of the strongest metal alloys for metalworking.
Copper is also antimicrobial. Throughout history, there are examples of copper helping to purify water and treat various illnesses. Today, this attribute makes copper a popular choice for surfaces within hospital environments, as it can help reduce the opportunities for microbial infections to spread.
COPPER ALLOY 110 FROM MEAD METALS
Between copper's high thermal conductivity and strength, copper alloy 110 is a mainstay for thermal applications. If you're looking to use this reliable material for your operations, call Mead Metals. Our high-quality stock of copper 110 is perfect for welding, thermal conduction, electrical components, and more.
Contact Mead Metals today and get a free quote on the versatile copper alloy that'll keep your thermal applications running like clockwork.