You, like every other business out there, are trying to constantly gain efficiency and increase productivity. This is crucial in just about any industry, metal manufacturing included. By providing edge rolling and conditioning services, that's exactly what we do. Sheet metal edge rolling results in a cleaner edge, meaning you'll receive a more consistent product that moves through machines more efficiently.
Through a rolling process, we remove sharp edges and imperfections that may have resulted from slitting. The process produces a radiused edge that results in a safer, more uniform product. And a uniform product is much easier to fabricate.
EDGE CONDITIONING SERVICES
Here at Mead Metals, stainless steel edge rolling and deburring is one of our value-added services. Our edge rolling capacity is 1/2" to 10" wide. For edge conditioning, here are the standard AISI edges:
No. 1 Round Edge: Approximate radius equal to 1/2 the metal product's thickness.
No. 2 Mill Edge: A naturally formed hot rolled or cold rolled edge.
No. 3 Slit Edge: Approximate square edge, slitting burr intact.
No. 4 Round-Cornered Edge: Rounded edge, slitting fracture may be visible.
No. 5 Deburred Edge: A safety edge - basically the No. 3 edge with the slitting burr rolled over.
No. 6 Square Edge: Square with radial corners, slitting fracture may be visible.
Benefits of Metal Coil Edge Rolling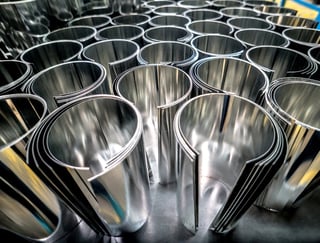 Edge rolling metal products have plenty of benefits. These include:
Removing sharp, dangerous burrs
Creating consistent product
Producing smooth edges
Increasing safe handling
Reducing liability
While manually removing the edge burr (using hand-held tools) was once a time-intensive process for many shops that resulted in uneven edges, edge conditioning machines make this process quick and consistent.
Why It Matters to You
Properly conditioned sheet metal keeps you safe during handling, produces fresh-looking metal products and prepares them for smoother, more precise processing. Our Mead Metals staff is all about providing you with the best quality.
We're here to help you order the correct edge conditioning for your metal product and project.