More often than not, our customers have a pretty clear idea of what type of metal they need. But, that's not always the case. We don't expect our customers to be complete experts. If you're unsure about variables related to temper or which thickness range is appropriate, we can help. Similarly, we're able to help customers understand which tolerances and capabilities the mills offer. That's an area of expertise we own. However, before reaching out to a metal service center to determine these finer details, you should have a strong idea of what material is right for your project.
characteristics of EAch Metal
As you are deciding which material is right for your needs, here are some traits and common uses to be aware of when choosing between the different metal types. As you go through the list of each material, you should be able to narrow down which material is right for your needs.
Beryllium Copper
ASTM B194 | Alloy 172
Also known as: BeCu, Alloy 25, Copper Beryllium
Traits

Common Uses

High electrical and thermal conductivity and high ductility
Can be stamped into complex shapes with tight tolerances
Good corrosion and oxidation resistance
Excellent metalworking, forming, and machining qualities

Electronic connector contacts
Non-sparking applications
Small springs
Computer components
Telecommunications products
Precision measurement devices
Aerospace applications
Stainless Steel
ASTM A240/A666 | AISI 301 | AISI 302/304
Also known as: Tempered Stainless Steel
Traits

Common Uses

AISI 301

Hardens through the cold working process more quickly than other grades
Excellent corrosion and heat resistance
Especially well-suited for applications requiring drawing, stamping, or forming

AISI 302/304

Austenitic
Delivers even greater corrosion and heat resistance than 301stainless steel
Ideal for applications which employ laser and etching processes

Automotive industry applications
Food processing and handling
Medical applications
Phosphor Bronze
ASTM B103 | Alloy 510
Also known as: Phos Bronze
Traits

Common Uses

Very good resistance to corrosion and fatigue
Good electrical conductivity
Very good product for strength performance and spring applications
Low coefficient of friction
Fine grain

Springs
Switch parts
Fuse clips
Electrical connectors
Lock washers
Welding rods
Ship propellers
Dental bridges
Brass
ASTM B36 | Alloy 260
Traits

Common Uses

An alloy of copper and zinc. The proportions of zinc and copper can be varied to create a range of brasses with varying properties
Popular in low-friction applications
Highest ductility of yellow brass products
Very good resistance to weathering and can be used in corrosive environments

Electrical components
Appliance parts
Fasteners
Connectors
Ammunition components
Gears
Bearings
Copper
ASTM B152 | Alloy 110
Also known as: Electrolytic Tough Pitch (ETP)
Traits

Common Uses

Good ductility with good electrical and thermal conductivity
100% IACS minimum electrical conductivity (annealed only)
Very good resistance to weathering and soil corrosion
Soft and malleable
100% recyclable

Electrical conductors
Switches
Transformers
Roofing and plumbing applications
Industrial machinery
Telecommunications
Cold Rolled Steel
ASTM A1008/A1010
Also known as: CRS, Mild Steel
Traits

Common Uses

Formable for moderate draw applications
High resistance to soil corrosion
Extremely ductile
Non-shrinking and non-creeping at ambient temperatures

Home appliances
Furniture
Automotive bodies
Electrical boxes
Vending machines
Highway products
Cold Rolled Strip Steel
ASTM A109
Also known as: Strip Steel, Cold Rolled Strip
Traits

Common Uses

Formability needs determine temper needed
Tighter thickness tolerances than cold rolled steel

Body panels
Automotive components
Tubes
Building materials
Electrical components
Appliances (refrigerators, washers, dryers, etc.)
Spring Steel
ASTM A684 | AISI 1050 | AISI 1074 | AISI 1075 | AISI 1095
Also known as: Annealed Spring Steel
Traits

Common Uses

High yield strength
Resilient and pliable
"General use" steel
Differing AISI designations refer to carbon content and spheroidization

Springs
Automotive suspension applications
Antennas
Metal sword manufacturing
Lock picks
Tempered Spring Steel
ASTM A684
Also known as: High Carbon Steel, Black Oil Tempered Spring Steel Strip (1075), Blue Clock Steel (1095)
Traits

Common Uses

1075 Scaleless Blue Tempered Spring Steel

Medium carbon content
High yield strength
Softer than 1095
Has more bend prior to fracture with a lesser degree of spring back

1095 Blue Tempered Spring Steel

High carbon content
Polished finish
High yield strength
Harder than 1075
Has less bend prior to fracture with a higher degree of spring

Vehicle coil springs
Spring clamps
Antennas
S-tines
Lock picks
Clock hands
Sword manufacturing
Knives
Binder clips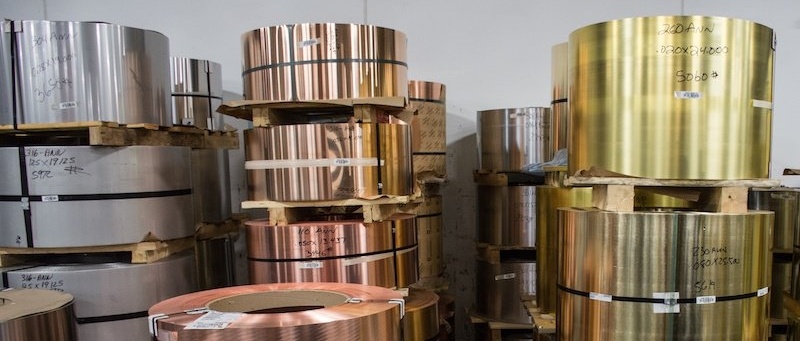 What a Metal Buyer Needs to Know
At the very least, we're hoping any customer who calls Mead Metals knows the material type and alloy they need, along with whether they'll need it in coil or sheet. Having these factors determined before reaching out to a service center will make getting the material you need a much simpler process.
Here's how Mead Metals will help get you the rest of the way...
Understand A Metal Buyer's Needs
First, we take the time to understand a customer's application and the needs that come along with it. Sometimes, customers need a material that matches their print exactly, and other times, they can use something close and still get the desired results.
If you're not 100 percent sure which temper is right for your application, we can advise you on this based on the specifics of your application.
Know What You Don't Know
While we're confident in our approach to helping customers and selling metal products, there are times when the staff at Mead Metals simply doesn't have the expertise to get you the information you need. It could be because a customer doesn't have enough information to create a clear picture of their needs, or it could be a situation where the information a customer needs is data that can only come from tests performed during melting.
Regardless, instead of recommending or selling a metal product that might work, we know when a customer's needs are outside of what we're able to offer. In these situations, we're up-front about it and oftentimes able to steer customers in the right direction. At Mead Metals, we're experts in the areas where we serve our customers, and we always want customers to get the right metal material for their project, whether or not it's through us.