When you have specific timing requirements for your order, finding a vendor who can supply you with a reasonable lead time can be difficult. But there are strategies for keeping your project on-time and ensuring you get the metal products you need in the quality your project requires.
Here's how Mead Metals can help:
Carrying Extensive Inventory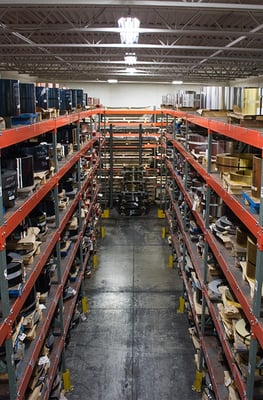 One of the biggest time-wasters is waiting for your metal vendor to source their product from their supplier. Every mill has its own lead time, and this situation puts you at the mercy of the mills.
Working with a vendor who carries extensive inventory allows you to skip that additional wait and get your products much more quickly.
Here at Mead Metals, we've developed tracking and buying practices to ensure our inventory remains well-stocked.
Providing Value-Add Services
Beyond supplying specialty metals in large and small quantities, we offer numerous value-add services in-house. This means that your metal product can leave our facility in the gauge and length your project requires. We will also edge-roll material before shipping.
Having these services performed by Mead Metals can shave time off of your project timeline and put your material at a lower risk for damage by decreasing the number of times the material needs to be shipped.
Communicating Openly
One of the benefits of being a smaller metal vendor and service center is that we know our suppliers and our customers on a more personal level. We take the time to get to know our customers and understand their projects and project timelines. This, effectively, lets us know if we're able to produce the lead times they require.
Similarly, we have strong, time-tested relationships with each of the mills we source our metal materials from. Because of this, we can provide accurate timelines for material orders.


I guess this is all to say we keep a handle on what we have, what we can do, and how long something will take us. This allows us to eliminate any unknowns that could keep customers guessing. When your project requires a specific lead time, we'll know upfront whether or not we can meet that expectation.