A metal alloy is a substance that combines more than one metal or mixes a metal with other non-metallic elements.

For example, brass is an alloy of two metals: copper and zinc. Steel is an alloy of a metallic element (iron) and a small amount — up to 2% — of a non-metallic element (carbon).
When compared to metals, alloys differ in their properties and characteristics, such as composition, applications, how they're made, and cost. Keep reading to learn more about alloys.
Alloys are an example of "teamwork makes the dream work," since each substance within the alloy lends its own properties to the solution or mixture. Some alloys will take the best attributes of each contributing element and create a final product that is harder, more durable, and/or more resistant to corrosion.
The careful chemistry that goes into creating these precise ratios ultimately produces substances with unique, useful properties.
How are alloys made? How do alloys work?
Digging a bit deeper into alloy chemistry demonstrates why alloys are so useful in such a wide variety of industries.
Because alloys combine different elements, they contain atoms of different sizes. How these atoms combine and interact with one another gives alloys their classification. In alloy chemistry, an alloy can be classified as substitutional or interstitial, according to its atomic arrangement.
substitutional alloys
A substituational alloy is formed from atom exchange mechanisms. The metallic components have similar atomic radii and chemical-bonding capabilities, so the atoms from one metal can occupy the same sites as their counterpart in the atomic metal lattice. Well-known substitutional alloys include brass and bronze.
Interstitial alloys
An interstitial alloy is formed when smaller atoms from one element fill the holes of the metal lattice. The atoms from each element do not occupy the same sites. Steel is an example of an interstitial alloy. In the case of steel, the smaller carbon atoms fill in spaces between iron atoms.
Chemistry is fascinating, but we'll get to the point: in both instances, the atoms in the alloy are unable to slide over each other as easily as those in a pure metal, meaning that the alloy is stronger and harder than either of the pure metals used to create it. Think of it like velcro: if you only have one side of the velcro, it won't stick to itself as firmly as the contrasting loops and hooks will grip together.
Why are metal alloys useful?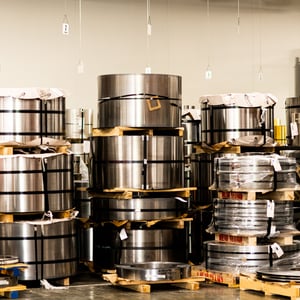 Pure metals are rarely used in manufacturing as they are too malleable, or soft. But as we demonstrated above, alloying a metal often enhances its properties. Some alloys are created to have better resistance to corrosion or better conductivity, and some are created to significantly increase their load-bearing capabilities.
The physical properties of an alloy — such as conductivity, reactivity, and density — may not differ significantly from its constituent elements. However, the engineering properties of an alloy — such as shear strength and tensile strength — may be substantially different.
Because of this, metal alloys are in high demand in a variety of applications and industries such as manufacturing, electronics, domestic goods, architecture, plumbing, and the automotive and aerospace industries.
Examples of popular alloys and their uses:
Brass
Brass is an alloy of copper and zinc. Brass has a low melting point and is extremely workable and durable. It is used in applications where low friction and resistance to corrosion is required such as:
Locks
Bearings
Ammunition components
Appliance parts
Decoration
Phosphor Bronze
Phosphor bronze is composed of copper alloyed with 0.5-11% tin and 0.01% phosphorus. It is resistant to corrosion and fatigue and should be used in:
Welding rods
Bushings
Bearings
Springs
Switch parts
Ship propellers and other applications in the marine environment
Steel
Steel is an alloy of iron and carbon. It has a high tensile strength and low cost. Mead Metals stocks many classifications of steel such as stainless steel, annealed and tempered spring steel and cold rolled steel. It is often used in:
Automotive parts
Infrastructure
Construction
Household products
Kitchen appliances
Beryllium Copper
Also known as Alloy 25 or BeCu, beryllium copper is a copper alloy with 0.5%-3% beryllium. It is weldable, ductile, and has non-magnetic and non-sparking qualities. It is resistant to oxidation, corrosion, and non-oxidizing acids. Additionally, beryllium copper has excellent thermal and electrical conducting capabilities. It is often used in:
Electronic connector contacts
Small springs
Musical instruments
Computer components
Tools for hazardous environments such as aerospace engineering and metalworking
Are metal alloys expensive?
A popular misconception is that metal alloys are expensive due to the multiple stages necessary for their production. However many metal alloys, such as brass and bronze, have been used for such a long time that the alloy can often be obtained for a lower price than those of the constituent pure metals.
Our expertise means you save.
In our experience, the unnecessary expense for a manufacturer occurs when the supplier has a high MOQ for a specialty metal, such as beryllium copper. We recognize that manufacturers often need smaller amounts of niche raw materials and are underserved by larger distributors.
If you are looking for a supplier that offers a low MOQ on specialty metals while maintaining industry-competitive lead times and unbeatable customer service, contact Mead Metals to get a quick quote today.