If you work with metal, chances are you've heard about DFARS and RoHS. But what do they stand for? And what do they have to do with where your metal is melted?
Let's take a closer look at the role DFARS and RoHS play in the metal supply industry.
Does my metal material's melt source matter?

Whether or not a metal material's melt source is significant depends on its final application and/or its final user. One of the most common situations in which melt source matters is when the end product needs to be DFARS compliant.
What is RoHS?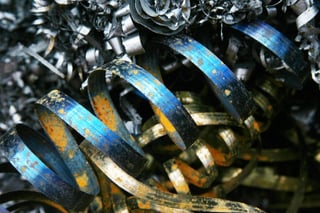 RoHS, which stands for Restriction of Hazardous Substances, restricts materials known to be hazardous to the environment (including those that pollute landfills). The materials restricted under RoHS can be dangerous to those who are exposed to them during manufacturing and recycling.

The purpose of RoHS is to reduce the use of hazardous metals. This makes it less likely that they will make it into the recycling mix at harmful levels. Restricted substances with RoHS include cadmium, lead, and mercury. Manufacturers must use safer alternatives when possible, like unleaded soldering, for example.
What is DFARS?

DFARS stands for Defense Federal Acquisition Regulation Supplement and applies to all contractors that provide goods and/or services to the U.S. Department of Defense (DoD).

Metal products that will be used by the DoD must be DFARS compliant, meaning the melt source must be within the United States or from a qualifying country. All NATO countries, as well as a few others — such as Japan, Australia, and Egypt — are qualifying countries.

Failure to comply with DFARS can result in heavy fines and other consequences. So if you need DFARS compliant metal products, it's best to cover your bases and make absolutely sure your metal supplier sources DFARS compliant material.

Why does RoHS and DFARS compliance matter?

The primary purpose of RoHS is to regulate and limit the use of potentially hazardous materials, or those that are known to be damaging to the environment.

The primary purpose of DFARS is to reduce or eliminate the possibility of contamination of metal materials and ensure that quality standards are met. While other industries are preferential to DFARS compliant metal, the automotive industry and any industry that supplies the DoD requires the use of DFARS compliant metals.

For either compliance standard, it's important to have your documentation in order. The metal service center you work with should provide you with the source information for verification. Because the usability of many end products depends on documented compliance, working with a service center you can trust is nonnegotiable. That way, you can be assured they are providing metal products that meet your standards.

How do I make sure my metal material is compliant?
Typically, all you need to do to get DFARS or RoHS compliant metal products is to ask for them. If you need metal that is domestically melted, DFARS compliant, and/or RoHS compliant, it's important to let your metal vendor know upfront. That way, they can give you an accurate quote and lead time for your order and ensure that you're going to get the material your project requires. Some metal vendors and service centers are easier to work with because they already buy compliant metals.
How does Mead Metals handle DFARS and RoHS compliance?
Here at Mead Metals, meeting RoHS and DFARS compliance standards is our standard. Our preference is to purchase domestically sourced metals whenever feasible. If we can't buy domestically, then we buy from a DFARS compliant country. The only exception is in cases where a metal cannot be mined in an approved country.

As a matter of principle, we purchase materials that meet these compliance standards because they meet our own quality standards. We've built strong, long-lasting relationships with the mills we source our materials from, and our customers are able to benefit from the quality materials and the clear documentation that result from those relationships.

For many applications and end products, knowing a metal's melt source is incredibly important; for others, it might not matter much, if at all. But we know that when a metal's melt source matters, it matters a lot, and we are committed to making sure you get what you need.
We stand by our metal
You don't want to be worried about noncompliance or messy paperwork when you're sourcing your metal material. To guarantee you're getting the highest quality standards and clear documentation to back up your product, get a free quote from Mead Metals today.