Spring steel, commonly referred to as annealed spring steel, is what's known as a "general use" steel. Because of the wide array of uses and applications for this metal material, Mead Metals carries multiple spring steel products.
Unique Properties of Spring Steel
Spring steel is known to be resilient and pliable with a high yield strength. It has the unique ability to be formed, shaped, and post heat treated. These physical characteristics are what allow spring steel to be a general use steel.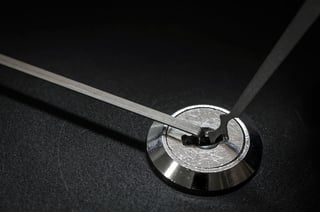 Mead Metals carries annealed spring steel in three varieties, which are distinguished based on their carbon content:
AISI 1050 has the lowest carbon content, making it easily formable. It also can be heat treated in order to increase hardness.

AISI 1074 and 1075 have a medium carbon content that's been spheroidized to increase its formability, and can be heat treated.

AISI 1095 has the highest carbon content of the spring steels we carry. It can be heat treated, and also has the highest elasticity and fatigue values.
You can view the physical and chemical properties of our annealed spring steel here.
Common Spring Steel Products
As a general use steel, spring steel has a wide range of commercial applications. It is a common material used for manufacturing objects like springs, washers, saw blades, lock picks, antennas, and scrapers.
It's also commonly used to create lawnmower parts, the landing gear of small aircrafts, and vehicle coil springs.
Spring Steel Carried by Mead Metals
Mead Metals Inc. stocks annealed spring steel in an array of grades, including annealed spring steel sheet, offering sizes and quantities to match any requirements. Our annealed spring steel is available in thicknesses ranging from 0.010 to 0.187.