Maintaining consistency and quality is essential across the metal industry. Having a metal supplier who is ISO certified is the key to ensuring quality assurance for your project or process. ISO classifications for workpiece metals inform fabricators and CNC machinists of the proper tools, speeds, and specifications to cut metal materials. Keep reading to learn more about ISO certifications, ISO-certified material, ISO workpiece material groups, and ISO material group classification charts.
What is an iso certification?
The ISO (International Organization for Standardization) is an independent, non-governmental, international organization that develops standards to ensure the quality, safety, and efficiency of products, services, and systems. An ISO certification ensures that a management system, manufacturing process, service, or documentation procedure has all the requirements for standardization and quality assurance.
What Is ISO Certified material?
If an organization bills itself as "ISO 9001 Certified," it has met the requirements designated under ISO 9001 (which you can read in full here). ISO 9001 requires organizations to define and follow a quality management system that is appropriate and effective while also requiring them to identify areas for improvement and take action toward those improvements. As a result, it's typically understood that an organization claiming ISO 9001 certification has products and services that meet quality standards.
What are the iso workpiece material groups?
Workpiece material can be defined as pieces of metal or other material that are in the process of being created, worked on, or machined. In other words, it's a broad-strokes term that applies to all metals. Since that's the case, ISO standards have created six different workpiece material groups that help manufacturers and fabricators differentiate types of metal-based on their physical properties.
These classifications help determine the proper cutting tools required to cut each metal, which saves time and takes the guesswork out of CNC cutting and machining. The six types of ISO workpiece material groups are identified by a series of letters and colors, with each group containing its own sub-groups.
ISO Group P — Steel
ISO Group M — Stainless Steel
ISO Group K — Cast Iron
ISO Group N — Nonferrous
ISO Group S — Super Alloys
ISO Group H — Hardened Steel
ISO Material Group Classification Chart
The core ISO workpiece material groups only scratch the surface when it comes to the diversity of metal materials and their cutting parameters, which is why each group has its own sub-groups based on the structure, makeup, and composition of each metal type. The chart below features the primary material classifications for the purpose of understanding each group and its makeup.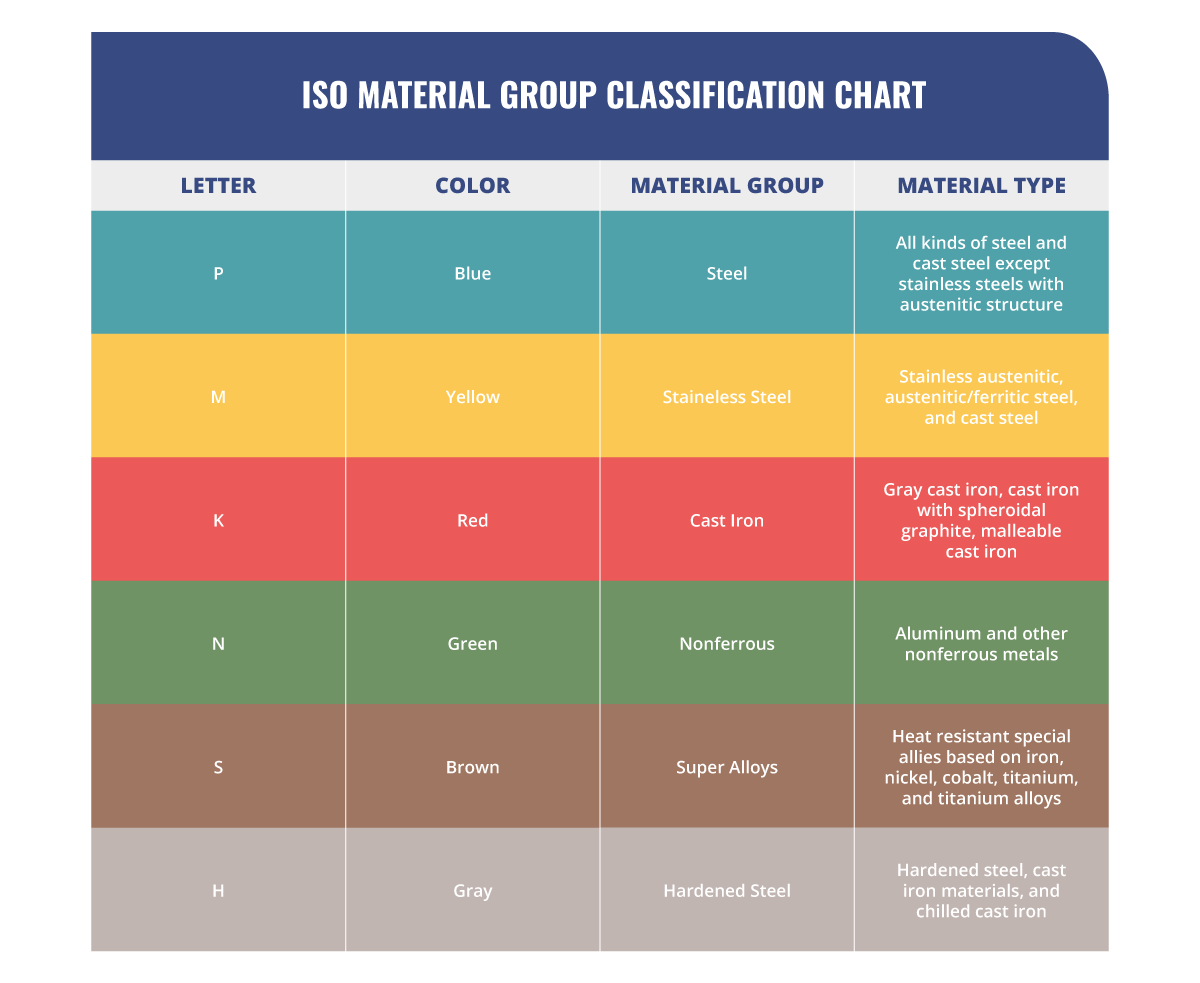 In Need of Workpiece Material?
Mead Metals is an ISO 9001-certified metal supplier committed to continuous improvement and exceeding customer expectations for quality standards. We provide customers with high-quality metal material in low and high-volume quantities. Our niche is low-volume, high-quality metals, which allows us to offer competitive pricing and unmatched service. If you require workpiece material for your next project or process, browse our products and services or get a quick quote today by clicking the link below.