The customer relationships that stand the test of time have so much to teach us. Recently, I had the opportunity to talk to someone who's worked with Mead Metals to source material for over 28 years—as long as they've been with the company. Below, I've shared some highlights from this conversation with the VP of Sales and Marketing at Engel Diversified Industries.
But first, let's learn a bit about their company.
About Engel Diversified Industries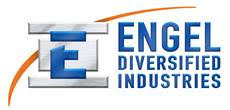 Engel Diversified Industries is a family-owned business located in Jordan, Minnesota. What began as a 5,000-square-foot business in 1988 now fills a 55,000-square-foot facility. Still family owned and operated, EDI serves a wide variety of industries across the United States.
EDI's current leadership embodies the culture first established by the Engel family: personalized customer service with a focus on quality, continuous improvement, technical and professional growth, and giving back to the community.
Working with Mead Metals
I had the opportunity to ask Kristina Engel-Douma, Vice President of Sales and Marketing at Engel Diversified about her experiences working with us. They rely on Mead Metals for multiple metal products, including:
Here are a few highlights from our conversation:
On the Overall Experience
"Mead Metals' lead times are, by far, the best in the industry. Their response times are wonderful—I typically receive responses within an hour of sending RFQs. And when it comes to product quality, Mead is one supplier that I never have quality or delivery issues with. They are truly a top-notch operation!"
Material Certification and Documentation
"We are an ISO Certified company; a portion of our material requirements do require material certifications to be sent with shipments. Any certifications that are required are specified at the time of order, and Mead has always provided excellent documentation for the information and certifications needed."
Consultative Sales Support
"In the past, Mead's staff has been helpful in giving us recommendations for materials to be used in different applications based on customer requirements. In addition, they have been able to push through orders on an expedited basis when we've needed it."
Knowing Their Niche
"As a supplier, Mead has truly been a leader in quality, delivery, and all-around performance. They do a tremendous job servicing their niche in our industry for small volume items, whereas, the others typically focus on only the high-volume items."
Thank you, Kristina, for sharing your experiences and for continuing to partner with us. We look forward to our continued partnership with you and Engel Diversified Industries!