In the steel industry, you may have heard the terms "cold rolled," "hot rolled," and "cold drawn." Understanding how these types of steel are processed, as well as proper applications for each type, is crucial in making sure you are getting the right material for your project. Buying the correct type of steel will save you both time and money, and ensure you are offering the best quality products to your customers.
Cold Rolled Steel
Steel can be processed using a variety of machinery and at a variety of temperatures. One of these processes involves sending the steel through a pair of rollers that shapes the metal to a specific thickness. When comparing cold rolled steel to hot rolled steel, the difference begins with the temperature at which the metal is processed. Cold rolling is done when the metal is below its recrystallization temperature, which is the temperature at which the steel grain structure can be altered. Cold rolling is done close to or at room temperature.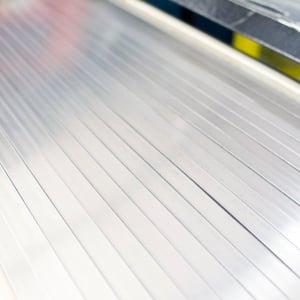 Because cold rolled steel is processed at this lower temperature, it requires additional pressure to form the finished product. It will often require multiple passes through the rollers to reach the necessary thickness. This process results in steel with high tensile strength, meaning it is more resistant to deforming or breaking under tension.
Steel doesn't melt during the cold rolling process, so the finished product will maintain a more precise and consistent thickness. The pressure of cold rolling also results in a more polished finish. This steel is ideal for products that require consistent thickness and a smooth, aesthetic finish, such as home appliances, metal furniture, and certain construction materials.
Cold Drawn Steel vs. Cold Rolled Steel
Cold drawn steel, like cold rolled steel, is processed at room temperature. However, while cold rolling produces a flat product, cold drawn steel produces a thin shape, like a rod or wire. This is accomplished by hammering down hot rolled steel to fit through a die: a machine that turns and pulls the metal into its final elongated shape. The cross section of this final shape can be round, square, rectangular, hexagonal, or octagonal, depending on the die. Cold drawn steel is ideal for long products, like shafting and structural parts, as well as consumer products that require an aesthetic finish.
Cold drawn steel has similar benefits to cold rolled steel. The pressure required to make cold drawn steel results in high tensile strength and a smooth, polished finish. Like cold rolled steel, cold drawn steel doesn't change shape during processing, so the finished product has a predictable thickness and shape. Cold drawn steel usually needs to be drawn multiple times through different dies to achieve the right size, leading to higher production costs.
Hot Rolled Steel vs. Cold Rolled Steel
Like cold rolled steel, hot rolled steel is flat. However, because it goes through the rollers at a much higher temperature, hot rolled steel will change shape and size during the cooling process, making it less ideal for project requiring uniform thickness. Hot rolled steel also has a rougher finish and is not as strong as cold rolled steel.
There are also some benefits when using hot rolled steel instead of cold rolled steel. Hot rolled steel is more malleable, so it is easier to work with both during and after the rolling process. This malleability also means that hot rolled steel is lower cost, due to fewer steps in the hot rolling process. For example, the metal doesn't need to be cooled before being sent through the rollers, and is able to be significantly reduced in thickness with only one pass (compared to cold rolling, which requires multiple passes). Hot rolled steel is best used for products like rail tracks and I-beams, which are produced in high quantities and do not require a clean finish.
There are many factors to consider when choosing a type of steel, such as production cost, strength requirements, and aesthetics. Knowing the differences between these three types will help you choose the best steel for your next project.