Many variables go into the quality of metal material. Anything from mill marks, scratches, and laminations to waves, twists, and burrs can affect the appearance and machinability of metals. Not to mention, what you see on the outside of a coil isn't necessarily going to be what you find in the middle. When it comes to ensuring the quality of our steel – and all of our metal materials – we go beyond the basics. Here's our process:
Clean and Calibrated Tools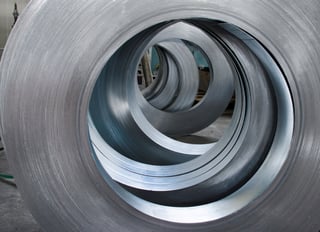 Before every single shift, our tools are cleaned and calibrated because if your tools aren't functioning as they should, final product quality is going to suffer. We keep our shop clean and our machines well-maintained.
By following quality control standards set forward by ISO, we have a firm foundation in place for processing material.
We Know Our Steel
The staff members at Mead Metals are highly experienced in the different types of steel we carry. Steel quality and possible issues are going to depend on the type of steel you're working with. The issues that are common in tempered spring steel vary from what you'll see in annealed strip steel.
Many of our operators have been with us for well over a decade. They understand the particulars of each material and how it will respond to different tools and machines. When they look at a piece of material, they can tell which issues it's most likely to have and how the material will react to different tools and machines. Plus, our operators keep a close eye when they're running coil because they know failing to pay attention creates more problems than it solves.
We Know Our Vendors
We have built strong relationships with the mills and vendors we source our material from. The quality needs of our customers vary based on the specifics of each project, and we know which of our vendors will be able to deliver on those needs.
Similarly, because we have a reputation for providing high-quality specialty metals, our vendors know that we won't accept materials that don't meet a particular standard. As a result, we receive high-quality metals the first time around.
Experience Yields Quality Steel
Our customers know they can come to us when they need high-quality steel. We have the processes, the people, and the vendor relationships to ensure the steel we provide is going to meet the needs of your project. Are you in need of high-quality steel or other specialty metals? Request a quick quote: