In the metal manufacturing industry, there are numerous steps a metal moves through in its journey from the mill, through the manufacturing process, and into the hands of the end user. As the material changes hands, there need to be measures in place to ensure the quality and the consistency of the metal.
For instance, heat lots.
What are Heat Lots?
A heat number or heat lot is an identification number that is stamped on a material plate to prove it meets industry quality standards, which require materials to be tested by the manufacturer. These numbers are used to identify production runs for quality control purposes.
Why are Heat Lots Important?
Basically, when massive coils of metal are delivered from the mill to a metal service center for processing, the heat lot serves as a certification of quality. Each heat lot comes with a Mill Certificate Document outlining special information about the metal. Among these details are two very important pieces of information:
Where the raw materials were melted from.
The chemical and physical properties of that particular metal.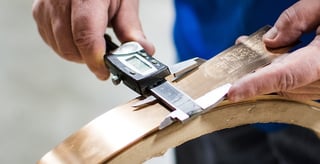 Knowing where heat lots come from is important because some mines and mills, especially those existing overseas, have been known to not fully disclose the mining source of the metal and/or the exact chemical properties of that metal.
In order to ensure both quality and use standards, this information must be disclosed on the Mill Certificate or Mill Test Report (MTR).
Mill Test Reports (MTR)
A metal's MTR provides documentation ensuring the metal received meets the required grade. Among other details, it will include specifications pertaining to the metal's mechanical and chemical properties. The documentation is issued by the company that performs the testing - this is either the mill itself or an outside company who performs the testing on behalf of the mill.
Metal Compliance Standards
Meeting metal compliance standards is made easier with heat lots. This documentation is a way to ensure your metal provider or metal service center sources quality material from reputable mills.
Heat lots are one of the checks and balances that are necessary for today's global marketplace. This documentation allows metal manufacturers and vendors to maintain consistency and quality across industries and nations.