Tempering and annealing are both methods of heat treating metal. The purpose of heat treating is to intentionally alter the physical (and chemical) properties of metal in order to prepare it for manufacturing. Heat treatments can affect many properties of a metal product, including strength, hardness, formability, ductility, malleability, and machinability.
Heat Treatments for Metal Products
In general, three variables impact the heat treatment of a metal:
The temperature to which it is heated
The length of time it is kept at that temperature
The method or rate of cooling
Depending on the type of metal undergoing heat treatment and the desired result, these variables will shift. But regardless, effective heat treatment requires exact control over all three.
Although there are numerous techniques for heat treating metal, I'll be covering just two of them today: annealing and tempering.
Annealing
When a metal is annealed, it is heated to the ideal temperature and then kept at that temperature for a predetermined length of time. The cooling rate for annealing is on the slow end of the spectrum. For instance, if you were cooking something in the oven and instead of removing it at the end of the cook time you allowed it to cool inside the oven, that's similar to annealing.
The primary reasons a metal product undergoes annealing is to reduce its hardness/make it softer. That way, it can be machined more easily. Additionally, some metals are annealed in order to increase electrical conductivity.
Tempering
Tempering is a heat treatment that improves the toughness of hard, brittle steels so that they will hold up during processing. Tempering requires that metal is heated to a temperature below what's called the lower critical temperature – depending on the alloy, this temperature can range from 400-1,300 ˚F.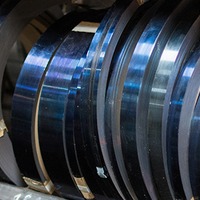 Tempering is also known to affect the colors that appear on the surface of the steel. These colors, which can range from a light yellow to shades of blue, are used to indicate the final properties of the steel. For example, our tempered spring steels – 1075 and 1095 – are both blue, but due to distinct differences in carbon contact, their shade of blue and other physical properties differ. You can view an in-depth comparison here.